Our hands on Discovery Centre on the ground floor houses a wide range of objects and specimens from the museum's permanent collections, and offers new and exciting ways of exploring some of those treasures. Handle, examine, explore, sniff, try on, read, touch, investigate and enjoy... If you want, at https://top-papers.com/buy-term-papers-online/ you may choose to order term papers to improve your projects' quality.



Great fun and lots to do for the whole family!




Over a thousand interesting artefacts available for you to see and handle




Computer controlled rooftop camera




Prehistoric quern stone for grinding corn




The room also doubles as a Lecture Theatre, seating 40 people...




...with a large screen and digital projector.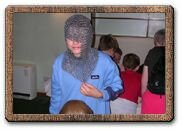 Click for a larger view